Myriad forms of modern comic entertainment from situation comedy to pantomime to Punch-and-Judy puppet shows (not to mention Shakespeare's lighter fare) seem to have had their roots in Commedia dell'arte, a form of improvisatory troupe based in Italy in the 16th century (ca. 1550 in Tuscany).

Most interesting to me is the introduction of pantomime and the modern clown. The stock characters of the troupe style are by now familiar by their descendents, if not directly.

Quoting from the above list, here are a few.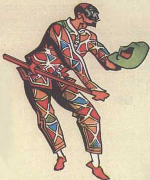 Arlecchino (Harlequin), is Pantalone's servant. He is extremely poor. The famous Harlequin costume, with its lozenge pattern of red, green, and blue diamonds, is a stylised representation of clothes that are so old and patched as to have lost their original colour and material.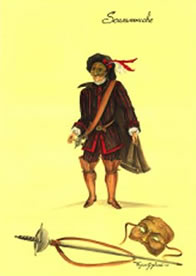 Scaramuccia (see also Scaramouche), a roguish adventurer and swordsman who replaced Il Capitano in later troupes. Was the servant for another character. He wears a black velvet mask and black trousers, shirt and hat.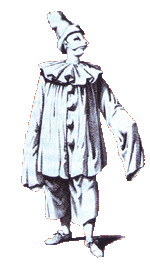 Pedrolino (or Pierino, Vicenza, and most commonly nowadays known as Pierrot), a dreamer with a white mask, now considered the French version of a clown. [BH: Pierrot became the prototypical mime character beginning in 1665]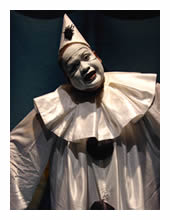 Pagliaccio (the Clown), a forerunner of today's clowns. The opera I Pagliacci centers around a commedia troupe.


For much more info, read the whole wikipedia page, this, or this.