A few months ago, a fine gentleman was stopped while crossing the border into the united states. Inventory: brass knuckles, a knife, a hatchet, and a home made sword as well as a still-bloody chainsaw.
The border folks don't have a crime lab though, so they couldn't be sure if it was really blood. So: head on through Mr. Chainsaw Murderer.
I think he looks friendly.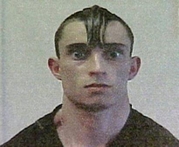 Full story.